30 Sep 2021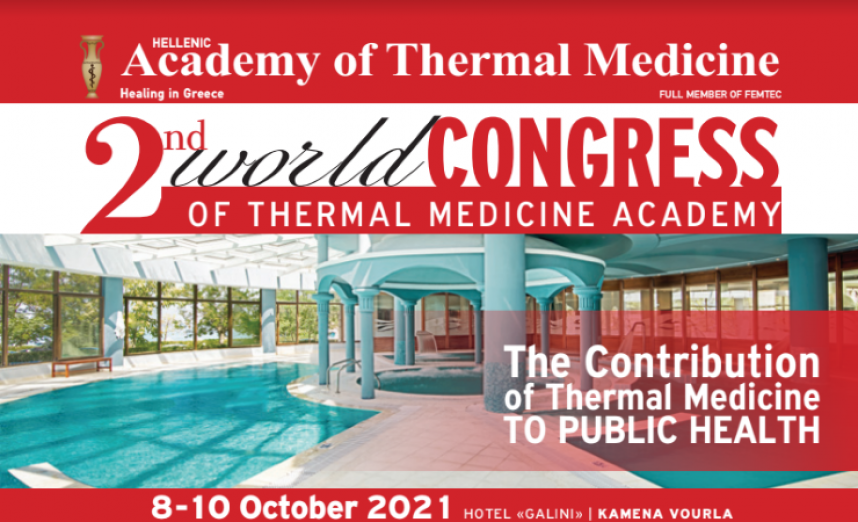 The 2nd World Congress of Thermal Medicine will be held 8-10 October 2021 in Greece, at the Hotel Galini, Kamena Vourla.
In this Congress will participate outstanding colleagues, as well as internationally well-established personalities who will present all the scientific up-to-date information and evolutions in Thermal Medicine while at the same time lectures, workshops and round table discussions will take place.
The 2nd World Congress of Thermal Medicine in cooperation with the European University of Cyprus will be co-organized also with the Regional Governor of Attica Mr. G. Patoulis, the Regional Governor of Central Greece, Mr. T. Spanos, the Cultural Development Organization of Central Greece, and the Hellenic Academy of Thermal Medicine.
The Hellenic Academy of Thermal Medicine
It was founded in 2015, aiming to establish and update Thermal Medicine as a complementary therapeutic method, with scientific documentation of its medical applications. Promising signs for Greece are the legal and institutional framework, as well as the decision of the Plenary Session of the Central Health Council in 2018 to establish Complementary Medicine integrating Thermal Medicine. The ongoing approval of prescriptions from the National Organization of Health Services has a confirmatory role for the effects of the complementary Thermal Medicine's therapies.
Thermal Medicine, with scientific documentation, supports the thermal, mechanical, chemical, and particularly biological and immunological effects of the healing natural resources and has emerged as a complementary therapeutic method to Classical Medicine. From ancient times health, wellness, power, and beauty are among the most precious goods of life, particularly in ancient Greece, the care of physical, mental, and spiritual health was an important part of Greek culture, according to Hippocrates, Father of Medicine, who founded the principles of Thermal Medicine.
The therapeutic methods of Thermal Medicine are external hydrotherapy (balneotherapy), drinking therapy, inhalation therapy, clay therapy, salt therapy, thalassotherapy, cave therapy, and biometeorological therapy. Thermal Medicine updated from the empirical state to the scientific one with evidence studies (evidence-based medicine) in Greece beginning in 2006, has therapeutic actions in different diseases of myoskeletical, neurological, respiratory, cardiovascular, hematopoietic gastroenterological, urological, and endocrine system as well as in dermatological, gynecological, allergic and otorhinolaryngologic ailments.
Therapeutic applications of Thermal Medicine in the various specialties are applied based on research, medical studies, doctoral theses, and scientific papers. The medicine helps eventually not only the treatment, recovery, and rehabilitation of physical, mental, and spiritual health, but also helps the treatment of silver & golden age, by applying longevity and well-being standards, as a preventive method.
This effort reflects the current situation in Greece that aspirates for our country to become a global health resort medispa not only for the elderly and patients with chronic diseases but also as Preventive Medicine, under medical supervision, always by experienced and internationally acclaimed physicians. Our basic aim is to stop the «brain- drain» and develop the «brain-regain», as the interest is growing internationally since the patients are looking for upgraded medical treatment, recovery, rehabilitation, antiaging, and wellness services.
Substantial role plays the establishment of a Master Degree Program specialized in Thermal Medicine in the Medical School of Athens, as well as a similar e-learning program. This effort has the ultimate goal of integrating Thermal Medicine as an elective course in undergraduate medical students 'education and additionally as thermal medical education in postgraduate programs related to different specializations.
The aim is the economic evaluation of the establishment and promotion of Greece as a tourist destination for Health tourism, especially for the elderly in combination with all thematic forms of tourism (clusters) that create high added value and new jobs.
The determinant is the contribution of Attica Regional governor President AMA, g.Η.D.l, IHTC, ELITOUR and Founding Member of the Hellenic Academy of Thermal Medicine G. Patoulis, in promoting and establishing internationally Thermal Medicine. He with his inspirational energy created the global Hippocrates Institute of Doctor's and the International Health Center, formulating national policy for the revival of Hippocrates spirit establishing Greece to be prominent not only as therapeutic but at the same time as an educational center of Hippocrates's Medicine and Classical Medicine with a holistic approach.