30 Apr 2023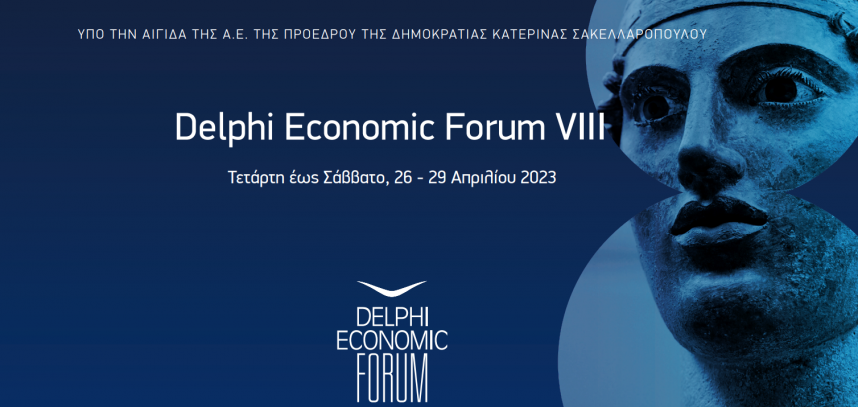 Delphi Economic Forum VIIΙ concluded yesterday, after 4 full days of discussions that featured more than 990 speakers from 71 countries, leaders in their respective fields, exchanging views, knowledge, and insights on the most pressing issues of our times.
It is telling that over a year after the Russian invasion of Ukraine, the ongoing war continues to dominate the agenda, with repercussions far and wide; a testament to how interconnected and fragile our world remains.
And yet, the tone of the annual gathering was decidedly optimistic, with cooperation across countries and actors being hailed as the remedy to all sorts of ills. The successive crises of the past few years have instilled a new sense of unity and purpose; perhaps arming us with the mettle to face climate change, the big existential crisis which continues to loom threateningly on the horizon, with renewed vigor.
Nothing less than a global paradigm shift will be required to fight the battles of the future, armed with science, collaboration, and a shared sense of humanity.
Federal Chancellor of the Republic of Austria Karl Nehammer discussed his visit to Africa, stating that there are many opportunities for collaboration with countries in the region. "I condemn in the strongest terms the unjustified war of Russia against Ukraine", he said, noting the brutality of the war. Nehammer spoke of his meeting with Russian President Putin and shared his belief that he is determined to maintain the war, but offered hope of a ceasefire. He also discussed the energy insecurity felt in Austria last year. "Now we are in a completely different situation", he emphasized, speaking of his support for renewable energy projects.
Minister of Foreign Affairs Nikos Dendias looked back on his term as a minister and "the new reality" of Greece in the Eastern Mediterranean. He also praised the entirety of the political world for the overall alignment on foreign policy. "I deeply believe that we can work with Turkey, find a solution with Turkey", said the minister. "I do not understand why we can find solutions with Italy, Albania, Egypt, and not our neighbor Turkey". "We are not naive", he added, "but it would be criminal to not try", he answered when questioned about Greece's support for Turkey's candidacy for the IMO.
Mehmet Kemal Bozay, Deputy Minister of Foreign Affairs of the Republic of Türkiye, spoke of how the earthquake that struck his country and Syria in early February and the rail collision at Tempe at the end of the month brought Greece and Türkiye closer. He spoke of the great international challenges facing the global community, including the Russian invasion of Ukraine. "Unless we synchronize our efforts, we will have difficulties ahead of us", he stated, pointing out that "cooperation should start from our neighborhood".
George A. Papandreou, former Prime Minister of Greece, argued that the worst thing that can happen in a democracy is a sense of fatalism, the belief that nothing can change. On the subject of education, he shared his belief that curricula do not leave room for the development of ideas and creativity, neither to students nor to teachers. The day-to-day, but also the big issues are not discussed in school, so young people lack the stimulus to think critically. He stressed that citizens are formed in schools and urged young people to become more engaged and participate in politics.
Asked about EU-Russia relations following the Ukraine war, former Foreign Minister of Poland Jacek Czaputowicz stated that, when one looks at democratic countries, they are threatened by authoritarian regimes, while stressing that the fundamental precondition for friendly relations is the establishment of common values. He also noted that our thinking must change. "We should not take Russia into account as a security factor in Europe", he noted, pointing to the urgent need for independence from Russia.
Hugo Dixon, Commentator-at-Large at Reuters, noted that "there is a strong common interest after the war: to remain united in Europe against the threat of Russia", adding that "we need to strengthen European defense and the European pillar of NATO while maintaining US engagement with Europe".
Jonathan Cohen, former Ambassador, Distinguished Fellow at RUSI, and Non-Resident Senior Fellow at the Atlantic Council, discussed the impact of the war in Ukraine. "It has revitalized NATO and has dimmed Russia's future", he said, adding that "Russia has taken a step of decoupling, for at least a generation". Cohen stated that multipolarity had begun taking root before the war in Ukraine, as medium powers sought a degree of autonomy. The former Ambassador also discussed China and the United Nations and looked at the future of the Security Council.
Director of Northern Europe at the Atlantic Council Anna Wieslander commented on the changing situation in Europe with the NATO accession of Finland and potential Swedish membership. However, she also stated that Russia is also looking to expand, noting its alignment with China. "This is the time where we really have to think about how to avoid spill-over effects, escalations", she said, looking at deterrence. She stressed the need to develop resiliency. She also said that if Turkey and Hungary do not approve of NATO accession, it will make the alliance seem weaker. "Directly, or indirectly, it plays into the interests of Russia".
Spirit of Freedom
"Ukraine is an independent, democratic country and we will fight to the end", said Svitlana Kovalchuk, Executive Director of the Yalta European Strategy in Ukraine. "We have to fight for our lives, we have to find money" she added, describing with obvious emotion the tragedy and the great challenges that the Ukrainian people are facing. Asked about what the future would hold, she remarked that the war also created an opportunity to review global security and to ensure that such a war would not happen again.
Speaking about the Ukrainian industry, Tetyana Prokopchuk, Vice President of the American Chamber of Commerce, commented that "this is the biggest recovery and rebuilding since World War II". "Ukraine is open for business", she said, urging companies to invest in the country despite the risk.
"Most African governments and people are pro-Ukraine", stated Greg Mills, Director of the Brenthurst Foundation and the Royal United Services Institute. However, the continent appears wary of several factors, including fear due to Putin's influence in the region along with China's potential reaction.
Regional Balance
General Konstantinos Floros, Chief of the Hellenic National Defence General Staff, discussed his four years of command of the Greek armed forces as a period of intense crises. "Looking at our neighborhood, we will see that the Balkans is a region that produces more history than it can consume", he said, while commenting on the large-scale war in Ukraine in which Greece has taken a clear position. "In this unstable geopolitical environment, Greece must be able to defend its interests".
National Security Advisor of the Greek Prime Minister Thanos Dokos said that all possible resolution scenarios must still be considered. "We need to decide what shall be done with Russia". Is it possible to come up with a new modus vivendi with Putin in power, or do we have to wait for a regime change, he asked. "We do not have anything in place", he said when discussing the deterioration of the European security architecture and outlining various challenges facing the continent. "It is time to move beyond the zero-sum game" in Greek-Turkish relations, he stated.
Ronald Meinardus, Mediterranean Program Coordinator at ELIAMEP, discussed how Ukraine has come to dominate public discourse. "This quasi-monopolization is relatively new", he said, sharing his worry that many important pressing issues may be taking a back seat, including climate change and migration. "Their concerns are different", he said when commenting on the attitudes of countries from the global south. Speaking of Greece, he stated that the country has seen a tremendous strategic upgrade. "Greece is celebrated as an energy hub and as a military hub, replacing Turkish strategic infrastructure", he noted.
Responsible Migration
Federal Chancellor of the Republic of Austria Karl Nehammer stated that we need people in Europe, which makes regular migration an issue, so cooperation with countries of origin is important. "The countries are willing to cooperate", he added. "We have to think about economical cooperation", and not just migration.
Panagiotis Mitarachi, Minister of Migration and Asylum, discussed the fence at Evros, particularly at a European level. "Fencing at the border, you stop illegal arrivals", he noted. "Europe should select who comes, with our rules and our processes", he added. This will further integration as well. "We need to find a solution", he stressed.
General Director of the International Organization for Migration António Vitorino spoke of creating a win-win situation in the region. "The world has changed a lot since I was Commissioner. There is definitely a need to revisit the instruments that are there", said Vitorino, welcoming the latest developments in Europe over migration. "The example of temporary protection directive being used in the Ukrainian case is a very successful example, he added.
Investment Grade Status
Chairman of the Board of Directors at Eurobank George Zanias discussed the keys to regaining investment grade status for Greece, which we could get in a matter of months. He explained what it would mean for the country and the banks, noting that "we are one breath away from regaining it". He pointed to both the primary surpluses and the state of our banks as positive developments.
Panagiotis Petrakis, Emeritus Professor at the National and Kapodistrian University, noted the importance of the fiscal situation of the country. He talked about inflation reduction, growth, and fiscal stability as crucial goals for the Greek economy. "The objective is to regain and maintain the investment grade", he explained.
State of Taxes
Chairman of Alpha Bank Vasileios Rapanos said that "there is no government or minister who has not amended the tax legislation". He shared his view that a major problem is the slow delivery of justice and the fact that the state does not accept the proposal for out-of-court settlements of disputes. Rapanos said that "the state legislates as if all citizens were evading taxes".
Vice Governor of the Bank of Greece Theodoros Pelagidis noted that despite electronic payments, there is an "underground economy", pointing to the lack of tax incentives and the complexity of the legislative framework as important issues to address.
A Message From Papastratos
At Papastratos, our actions speak louder than words. Everything we have done so far gives us strength to carry forward. Everything we do right now is our motivation to keep on going. Because of our actions, we can look tomorrow in the eye with courage and optimism and say, "Dear tomorrow, we are ready".
Innovation & Sustainability
"This transformation begins with sustainability. Everything starts there. We couldn't talk about sustainability without looking at our product first". Vice President for Public Policy & Economic Research at Philip Morris International Nikos Papathanasiou spoke about the company's radical shift towards the research and development of new products that are better alternatives to cigarettes. "Philip Morris and Papastratos are on a common path and are making a great effort to leave cigarettes behind and move forward", he said. He also highlighted the importance of the regulatory framework as a key factor to foster innovation and move things forward. Transparency, data, and open dialogue are fundamental elements to respond to the suspicion that comes with innovation.
Carmine Di Noia, Director for Financial and Enterprise Affairs at the OECD, highlighted the importance of investment in sustainability. "We want regulations that can be applied jointly by all. We are opening a new chapter in resilience", he noted.
Vassiliki Lazarakou, Chair of the Hellenic Capital Market Commission, was optimistic about the possibility of a "brain gain" in Greece, highlighting the importance of sustainability and resilience for companies. "We need to focus on social justice, social responsibility, and environmental approval", she said. "We have to take this path and not look back", she added, discussing ESG.
Soft Skills, Strong Impact
George Tsaprounis, Chief Communication Officer at INTRAKAT, singled out the three most important things for a company's success. First, he mentioned communication, with an emphasis on both talking and listening. Second, he noted that teamwork is also essential. The third key to business success is taking initiative. On the subject of communication, he emphasized how honest contact brings people closer together.
CEO and Co-Founder of Morphoses Anna Natsvlishvili defined soft skills as those characteristics that shape our behavior. Sometimes they are also called human skills or employability skills, she said. Soft skills are developed from an early age through socialization. Also contributing to their development is role-playing, i.e. stepping into the shoes of others and developing empathy, and also challenge-based learning.
George Petsis, Managing Director of DPort Services, spoke about his own experience in the port of Piraeus, where developing soft skills promotes good team communication and enables employees to stand out. He also spoke of several initiatives of his company to promote soft skills in the workplace.
Culture & Creativity
John Kalafatis, CEO of York Studios, stressed the need for more quality production in Greece. Through high-quality production, the domestic economy is strengthened and the material produced can be marketed abroad. He mentioned how the Greek legislative framework makes it difficult for artistic production. Nevertheless, he is convinced that with the creation of the necessary conditions and infrastructure, and the cooperation with government agencies, domestic production can flourish.
CoMuseum Co-Founder and Curator at Benaki Museum Sofia Handaka stressed the need to broaden the audience of museum spaces and described museums as reliable institutions that last over time. For this reason, museums should be institutionally recognized for their work. She described the changing attitudes towards modern museums with an emphasis on, among other things, accessibility, inclusion, and the advancement of the local community.
Orestis Andreadakis, Artistic Director at the Thessaloniki International Film Festival spoke about the principles that should govern the development of culture and the arts and stressed the need for economic development and environmental protection to be promoted alongside cultural progress.
Professor at the National and Kapodistrian University of Athens Constantinos Kartalis spoke about the change of the business model that is gradually taking place in culture. Efforts are being made to use renewable energy sources in the production of cultural projects, as well as to create a positive impact on the local community.
Christos Carras, Founding Director at Carras Consulting - Synergies for Culture used the term "place-making" to talk about the goals of creating cultural places. Cultural spaces, he explained, must be connected to the surrounding space and conditions. Culture has a role, among other things, in developing the local community.