25 Feb 2022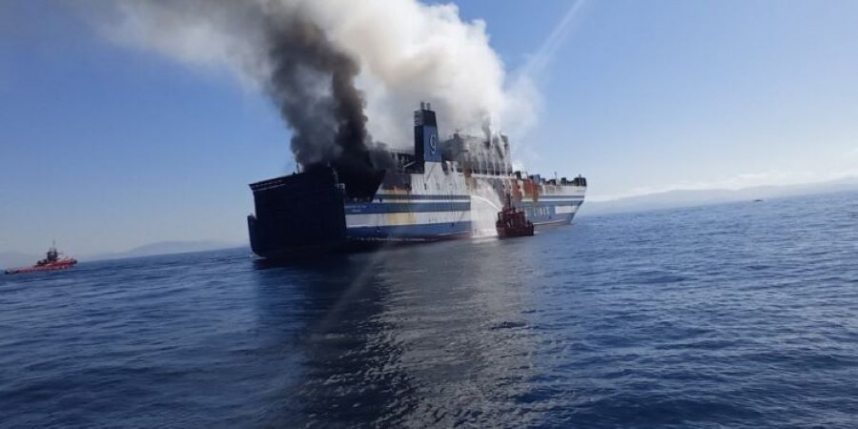 IMO Secretary-General Kitack Lim made a statement regarding the fire onboard the Euroferry Olympia, expressing concerns and congratulating the efforts of the search and rescue authorities of Greece.
Euroferry Olympia was about 10 miles north of the island of Corfu when the fire started during a voyage from Igoumenitsa, Greece to the Port of Brindisi in Italy.
Grimaldi Group reported that the vessel was carrying 239 passengers and 51 crew members along with 153 commercial vehicles, and 32 passenger vehicles at the time of the fire.
After the incident, rescuers from the Italian Guardia di Finanza and Greek Coast Guard managed to rescue hundreds of people from the burning vessel, but thirteen had initially remained missing.
Later, two survivors were located, but a body was also discovered in the cabin of a truck, leaving 10 still missing.
Now, the IMO Sec-Gen published a statement on the accident, noting that:
I express my deep concern regarding the incident involving the fire onboard the ro-ro Euroferry Olympia, on 18 February, near the Island of Corfu in the Ionian Sea, while en route from Igoumenitsa, Greece, to Brindisi, Italy
He also expressed his appreciation for the efforts of the search and rescue authorities of Greece, as well as nearby merchant ships, for the rescue of more than 275 people and the ongoing work to locate a number of missing people.
I am saddened to learn of a confirmed fatality. I convey my condolences to all that have been impacted by the loss
As Mr. Lim said, IMO is closely monitoring the situation as it evolves, and is looking forward to receiving the investigation report into this incident in due course."
IMO's Sub-Committee on Ship Systems and Equipment (SSE) is engaged in ongoing work to minimize the incidence and consequences of fires on ro-ro passenger ships
Elena-Ira Tzalacosta (Έλενα-Ήρα Τζαλακώστα)