18 Apr 2022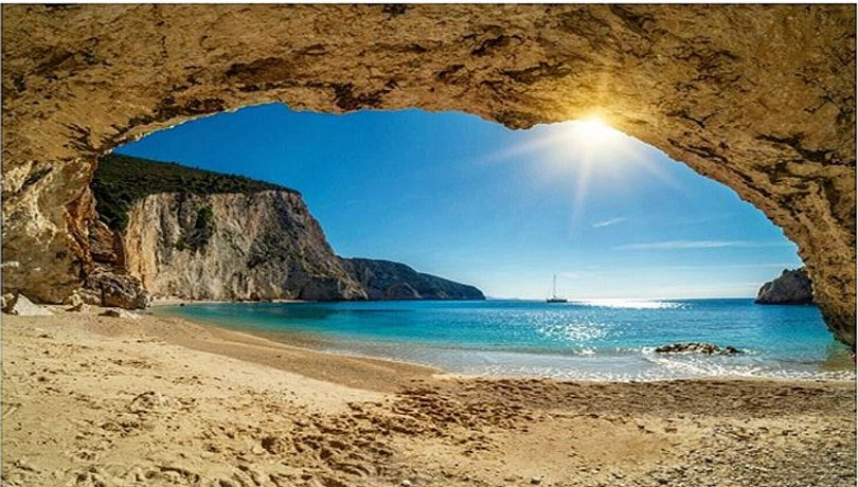 The European Best Destinations (EBD) organization has included four Greek beaches among Europe's best for 2022.
The organization has included the Greek beaches on its list of the "22 Most Beautiful Beaches in Europe for 2022", which ranks the continent's most popular beaches according to the votes of international travelers.
The beaches that EBD singled out in Greece are located on the islands of Lichadonisia, Crete, Lefkada and Astypalea.
EBD: Greece's 4 beautiful beaches for 2022 
Monolia Beach, Lichadonisia Island – 6th

EBD is inviting travelers to discover Monolia Beach – also called the "Greek Seychelles" – and enjoy a holiday on one of the most beautiful beaches in Europe.
"Surrounded by blue sea, far from the crowds, this beach is very clean and has a restaurant hut for a drink or a meal," the organization says.
Elafonisi Island, Crete – 8th
It is one of the most beautiful beaches in Europe and one of the few pink sand beaches in the world.
Crystal clear and shallow water, fine pink sand, spectacular landscape await travelers. 
Porto Katsiki, Lefkada – 11th
Porto Katsiki (literally meaning 'goat beach' in Greece) was initially accessible only to goats – the only ones able to climb the steepest rocks.
Today, paths have been developed and allow travelers to enjoy the beach. 
Agios Konstantinos Beach, Astypalaia Island – 13th
This beach will suit travelers looking for sun, crystal clear waters, idleness, as well as sporty travelers since a hiking trail (8km along the coast), starts from this dream beach.
"The castle, the mills, the blue sky, the calm blue sea, and a small fresh fish restaurant will be the ingredients of the perfect holiday in Greece this year," EBD says.
The organization has included the following beaches on its list:
Porto Santo Golden Beach, Madeira Islands – Portugal
Bolonia Beach, Cadiz Province – Spain
Seixal Beach, Madeira Islands – Portugal
Cala Goloritze,  Sardinia Island – Italy
Mitjaneta Beach, Menorca – Balearic Islands
Monolia Beach, Lichadonisia Island – Greece
Baia delle Zagare, Apulia – Italy
Elafonisi Island, Crete – Greece
Santa Giulia Beach, Corsica – France
Hel Beach, Hel Peninsula – Poland
Porto Katsiki, Lefkada – Greece
Calanque d'En Vau, Marseille – France
Agios Konstantinos Beach, Astypalaia Island – Greece
Cavoli Beach, Elba Island – Italy
Playa Cala Sa Boadella, Lloret de Mar – Spain
La Sorgente Beach, Elba Island – Italy
Cala dei Gabbiani, Sardinia – Italy
Greve Blanche beach, Brittany – France
Cala Cipolla beach, Sardinia – Italy
Blanes beach, Blanes – Catalonia
Laga Beach, Urdaibai – Basque Country
Cauco Beach,  Amalfi – Italy