27 May 2022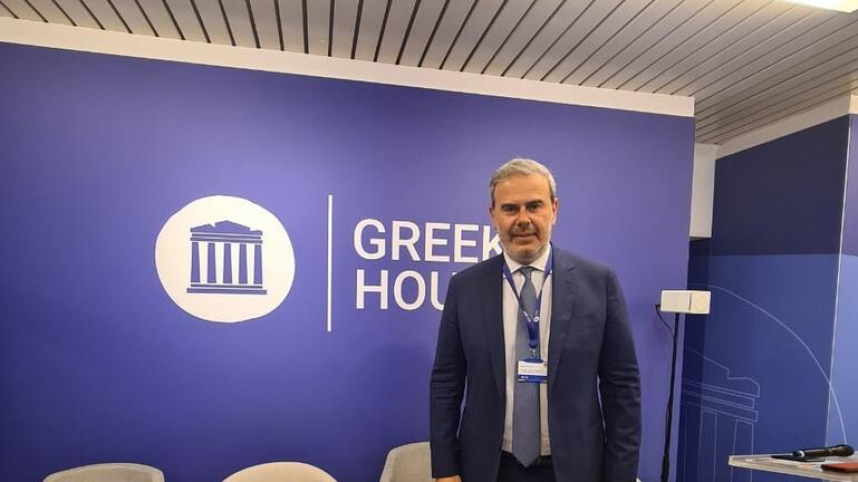 Sustainable tourism development and ways to evenly distribute tourist flows and revenues among all of the country's destinations were the focus of Greek National Tourism Organization (GNTO) Secretary-General Dimitris Fragakis' participation in this year's World Economic Forum (WEF) meeting in Davos, Switzerland.
"The more tourism converges with local communities, the greater the benefits for all citizens," Fragakis said during a panel discussion on "Transforming Tourism for Climate Action: A New Model of Sustainable Tourism Development", co-organized by Greek House Davos.
Fragakis stressed the importance of extending sustainable tourism practices to the smallest communities, adding that environmentally-friendly practices and actions have played and will continue to play a decisive role in enhancing social cohesion.
"The big bet this decade is the further diffusion of the tourist product and the consequent further increase of revenues in more parts of the country and for more citizens. From the four regions that currently enjoy the benefits of tourism, we must create the corresponding conditions for all 13 regions in Greece," he said.
"After all, we have those comparative advantages that make the whole country a potential tourist destination all year round. This will mean more growth, more outwardness for local communities, more jobs for young people."
The head of GNTO went on to highlight the key role the tourism industry has played in supporting Greece through the health and economic crisis, accounting for 25 percent of GDP and employing 750,000 people.
Lastly, Fragakis underlined the importance of creating a new model of tourism based on sustainable alternatives noting that this will not only help protect Greece's natural resources but also safeguard the country's vast cultural heritage.
Greek House Davos is an independent, non-profit initiative aiming to enhance Greece's presence at the World Economic Forum and to forge and sustain partnerships for change among the public and the private sector on domestic and international levels.