01 Jun 2022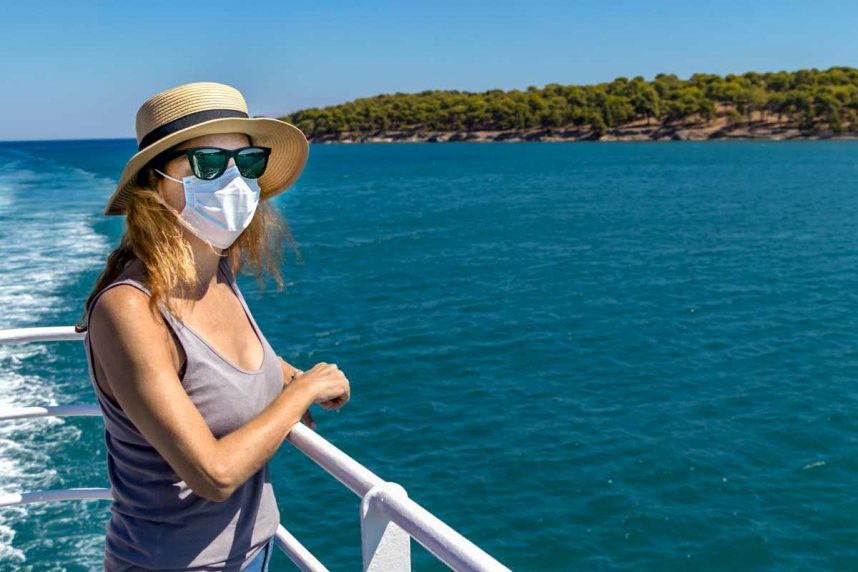 Greeks and visitors to the country are no longer required to wear masks anywhere inside or outdoors, including at restaurants, bars, cafes, and shops, as a new government decision went into effect on June 1 after two years of Covid-19 measures. However, there are exceptions.
With regard to transport, Greece has stopped enforcing the mask mandate on airplanes (domestic and international flights), intercity trains and buses (KTEL).
However, people traveling on public transport – buses, trams, the metro, and electric railway – are still required by law to wear masks.
With regard to wearing masks in taxis and onboard ferries and cruise ships, Greece's Covid-19 committee of experts decided the following:
– for passenger ships (ferries): masks remain mandatory only in indoor areas of ferries (reception and lounge areas, cabins, etc). Passengers no longer need to wear masks when in outdoor areas of ferries (on deck).
– for cruise ships: masks do not have to be worn anywhere on the ship. Masks will return only if more than 2% of passengers or more than 4% of the crew become ill within a week or if more than 1% of the total population on board becomes ill within 48 hours.
– for taxis: masks remain mandatory for drivers and passengers.
The committee of experts also decided that masks will remain mandatory in pharmacies for both staff and customers.
Where masks are not required in Greece
– shops and supermarkets
– restaurants, cafes, and bars
– gyms
– outdoor or indoor venues
– on intercity buses (KTEL) where seats are numbered
– on intercity trains with a number of seating
– on airplanes where seats are numbered and in airports (The Hellenic Civil Aviation Authority has issued a recommendation for staff and travelers, especially those belonging to vulnerable groups, to wear masks when they think it is necessary for the arrivals/departures areas of airports and during domestic and international flights.)
– on cruise ships
– outdoor areas of ferries
Where masks remain mandatory in Greece
– public means of city transport including Athens metro, city trains, city buses, trolley and tram cars
– indoor areas of ferries
– taxis
– hospitals, clinics, and medical centers
– nursing or retirement homes
– pharmacies
Mask-wearing is also still mandatory for students taking end-of-year or college entrance examinations and supervising teachers.
However, despite the Greek government's decision to scrap masks, Health Minister Thanos Plevris and the committee of experts reiterated that people, particularly among vulnerable groups, are strongly advised to continue wearing them.
The removal of the mask mandate for indoor areas applies until September 15, when measures against the coronavirus will be re-assessed.